Dubbed "Real Gear'' the Ricmotech GTPro3 Xtreme Tilton Real Gear Pedal Set is squarely and unashamedly aimed at the higher to top end of the PC sim racing market. The pedals possess a no-compromise design, using some of the finest and most robust real world components available. With a little patience and a decent amount of elbow grease, getting them fitted to the Playseat® Sensation Pro sim rig was an engineering exercise in itself! Let's find out if these pedals were worth all the effort!
Packaging
The GTPro3 pedals arrived in a rather large, heavy and unassuming brown cardboard box, which gave little away about its hi-end contents. Wasting no time, I eagerly opened the box to get my first look at these Real Gear pedals! At a glance you can immediately tell they mean business! After all, these pedals are usually bolted straight into some of the fastest racing cars on Earth!
The Contents 
Unboxing the GTPros and starting at the top left, the contents are as follows: The ECU controller unit, the re-engineered Tilton 600 series pedal frame, user manual, assorted fixing bolts, three sandpaper pads which can be glued to the steel pedal faces for extra grip (should you wish to do so), two round clamps to secure the remote brake sensor unit, also included, but not pictured here, is a large 8mm thick aluminium mounting plate and USB A to B cable.
Hard Mounting The GTPros To The Playseat® 
Getting to work on mounting the GTPro3 pedals to the sim rig (The Playseat® Sensation Pro) was going to involve some MacGyver style tinkering! I was hoping to avoid drilling into the the Playseat®'s pedal deck.
Firstly, I wanted to fit the supplied aluminium mounting plate to the existing Playseat®'s pedal deck and make it as horizontal as possible. I had to cut two semi-circular pieces out of the plate to fit around the tubular frame at the front of the rig. Then, utilising the existing holes in the pedal deck I was able to bolt the aluminium plate to it. Additionally, I had to fabricate some L-shaped brackets and reposition the pedal deck mounts on the Playseat® itself.
Continuing on, it became clear to me that I would have to drill at least four holes through the Playseat®'s pedal deck. This was necessary to facilitate fixing the GTPro's pedal frame to the Ricmotech aluminium mounting plate and the pedal deck. By doing so, it created a sandwich of metal nearly 10mm thick!
Once the pedal frame was positioned where I needed it to be, I then set about mounting the ECU unit and remote brake sensor. Luckily, the Ricmotech aluminium mounting plate is generously proportioned and comfortably accommodates all of the separate components. The ECU can be mounted in several positions and should ideally be placed somewhere within easy reach. More to follow on the mounting of the ECU unit.
After following the user manual and getting everything mounted securely to the rig, I then connected the several colour coded cables to their respective outlets at the rear of the ECU. Being a bit of a neat freak, the cables were hidden away under the overhanging hydraulic reservoirs and behind the remote brake sensor. This makes for a very tidy and compact installation.
The whole mounting exercise ended up being more involved than I had envisaged! Using a mixture of bolts, brackets and self-fabricated parts, the result is an almost completely flex-free mounting solution for these heavy duty racing pedals! When I say almost flex free, I mean there is still two or three millimetres of flex that I cannot remove from the set-up. Nothing short of having to weld things to the Playseat® would alleviate all the flexing!
Positioning The ECU Unit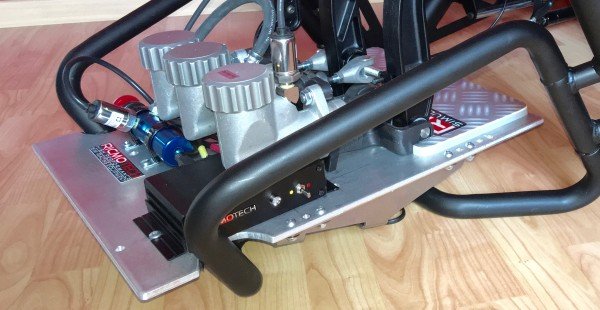 Positioning the ECU control unit requires a little extra forethought, as you will need to access the two-way programming toggle switch located on the front of the unit. In the images above, you can see that I decided to mount the ECU on the front left side of the aluminium mounting plate when looking at it from my seated position. The programming switch is easily reachable when not seated in the rig. Ideally, having it within reach when seated would be preferable. Honestly though, once you have the pedals calibrated and set up the way you like them, you will find yourself not really having to access the programming switch very often. Conversely, should you have more than one profile stored in the ECU, or want to change the linearity of the individual pedals, you can only achieve this via said switch, which makes having the switch close to hand a good thing.
Generally, I was quite happy with the chosen position of the ECU, both practically and aesthetically speaking.
Software Installation And ECU Control Unit Explained
The three pedals interface with the PC via an in-house built ECU control unit. Connecting up the pedals to the PC was certainly very simple, this is done via the supplied USB 'A' to USB 'B' cable (Printer style cable).
There is no need for third-party software to run on your PC in order to perform any calibrations or adjustments. The ECU receives all the positional readings from the pedals and processes them prior to sending them to the PC over the USB port, using the internal 16mhz micro-controller at its core. The ECU is capable of performing over 15,000 pedal reads per second and analyses this abundance of information to extrapolate the smoothest and most accurate pedal position information possible. The ECU can also store up to five separate user profiles and does not lose them, even if the pedals are disconnected or coupled to a different PC!
Calibrating The GTPro3 Pedals 
Prior to commencing the calibrating process I spoke with André from Ricmotech and took time out to adjust the height of the pedal faces, as well as the throw of the clutch and throttle pedals.
André gave me a valuable tip to ensure the throttle and clutch pedals would be 100% calibrated. He suggested inserting a thin piece of plastic approximately 2mm thick between the stop screws and the hard stops for said screws. This ensured that the pedals were calibrated to 100%, with a couple of millimetres travel to spare.
The brake pedal was also adjusted for its initial starting position and firmness. The point of 100% calibration for the brake pedal is a matter of personal preference, in my case and with a small dead-zone to begin with, I set it to around 30mm of travel from 0 to 100%. Most of you probably know my favourite driving technique is heel and toe, so I set the throttle pedal to be almost dead level with the brake pedal when the brake is at about 50 to 60% of its total travel.
Following the comprehensive printed user manual, I proceeded to calibrate each pedal. The procedure is a little different from how most sim racing pedals are set up. Basically, any adjustments are performed with a series of switch positions using the two-way toggle programming switch and watching for the flashing LED for cues as to what function is being carried out. Certainly an unique approach and very simple to follow. Although, accessing some of the menu functions requires flipping the programming switch up to 16 times!
The initial settings / calibration of each pedal as per the recommended user manual settings were as follows:
Throttle pedal linearity = Position 2 or click 2 ( A Weighted)
Brake pedal linearity = Position 4 or click 4 (AB Weighted)
Clutch pedal linearity = Position 3 or click 3 (B Weighted)
Ricmotech's available pedal linearity curves as depicted in their printed user manual.
Three Pedals, Three Unique Attributes
Throttle Pedal:
The Tilton 600 series throttle pedal already had a factory fitted return-spring, but lacked the resistance of a carburettor or throttle-body return-spring. The pedal has been re-machined to accept a secondary return-spring to provide the correct amount of resistance to the throttle pedal. It also has an adjustable throw, catering to varied driving styles. Depressing the throttle actuates an industrial-duty, Honeywell, state-of-the-art Hall-effect sensor for fidelity without any moving parts.
Brake Pedal:
The most critical pedal for all sim racers has been designed to replicate the real world mechanics of braking systems. Based on Frank Rico's testing, the slave cylinder has been uniquely modified, by analysing the forces at play on the master cylinder, brake lines, brake hoses, callipers, pads and disks. The result is a compact system which not only generates the sensations of the mentioned components under stress, but more importantly the reactions of these components when the stress is relieved.
The master cylinder uses hydraulic fluid (automatic transmission fluid) to interact with the specially modified slave cylinder and an all-stainless steel industrial pressure sensor reads the hydraulic pressures in the braking system, which sends this information to the ECU for further processing. There are two load options for the brake pedal, 80kgs or 175lbs and 160kgs or 350lbs. Adjustability is also built into the pedals by means of interchangeable resistance modules on the slave cylinder assembly, which can give you the feel of a modified street car, going all the way up to an F1 car's brake feel. In fact, this makes the pedal infinitely adjustable for feel, and will allow it to transmit every nuance of the braking cycle to the driver.
Clutch Pedal:
The clutch pedal has been designed to replicate the mechanical feel of a real world racing clutch. For example, a road going car's clutch is fitted with a complex mechanism to assist the driver in keeping the clutch pedal depressed whilst the vehicle is motionless. In a race car, the only force acting on the pedal is the clutch pressure plate spring. The uniquely developed diaphragm-shaped spring gradually requires less effort the further the pedal is depressed. Depressing the clutch pedal actuates a pneumatic master cylinder, which utilises a pressure sensor rather than a position sensor to uniquely determine clutch engagement, the way a real hydraulic clutch system operates.
Lastly, the pedal travel stoppers fitted to the clutch and throttle pedals have a nylon (softer than steel, in any case) insert in their tips, a thoughtful addition by Ricmotech! If you are unlucky enough to have neighbours that complain at the sound of a pin dropping, these soft tips may spare you possible sound issues. Metal on metal is not a sound that is easily muted and it will travel through floors, walls and ceilings quite easily. The soft tips dampen this sound to almost imperceptible levels, which is a very good thing indeed!
Racing With The GTPro3 Pedals 
Having driven plenty of road going cars, including a Ferrari California, some of those experiences should provide a good reference for me when comparing the GTPros to real world pedals. Additionally, I was fortunate enough to have the opportunity to drive a race prepared Formula Ford at Zandvoort, so that should help as well!
Down to brass tacks then, what are these pedals like to race with? You would expect with pedals of this calibre, the feel and operation of the GTPros would be spot-on when replicating the real deal!
Firing up iRacing and going through the pedal calibration set-up in-game, I took André from Ricomotech advice and set the brake force to 0.0 in iRacing's options screen. Finally, I was ready to do a few laps of Bathurst in the Radical R8. Prior to heading out on circuit, another tip from the user manual is to pump the brake pedal as you would in a real race car, to build up pressure in the braking system.
The first metres are as you would imagine, quite exploratory, testing the brake to check if my 100% calibration setting was comfortable, which it was. I could modulate the pedal to the point of lock-up and then easily back off enough to free up the offending wheel. Braking heavily for turn two at Bathurst, then lightly trail- braking into the corner allowed me to get on the power as early as possible and head up to The Cutting. The brake offers almost immediate confidence and definitely has the feel of a real car's brakes. It exhibits a true hydraulic feel and at no time does it feel either springy or spongy! Coming off Conrod Straight and braking as late as possible for the tight left hander at the end of Caltex Chase, it was easy to judge how much modulation to apply and wash off enough speed to make the apex. Just like in a real car, you think, shit, I am not going to stop in time, but before the wheels lock-up there is more braking available! That is until the tyres eventually give up and say no more! Left foot braking and pressing harder on an already quite hard brake pedal will not result in an instant lock up. This inspires confidence to brake later and later, until the limit is reached. The dubbing Real Gear most certainly applies here!
With a fairly light throttle spring in the first instance, I did find myself wanting it to be around 30% heavier. Mainly because I am used to a heavier than normal throttle spring when sim racing. In more powerful cars it is easy to apply too much throttle, causing you to end up facing backwards. This, of course can be addressed using another linearity setting. As with all new sim racing equipment, it requires a short period of adjustment before you can extract the most out of it. The GTPros are no exception here. I set up the throttle with about 70mm of travel from 0 to 100% throttle. Once I was used to its operating range, it became easier to modulate.
Jumping into Asseto Corsa, it was time to use all three pedals as they were meant to be used. Heel and toe, folks! This time it is the1988 Adelaide GP circuit in South Australia and the excellent MAK-Corp 1988 Honda McLaren MP4/4 from Ayrton Senna. I chose this combo mainly because the car is awesome to drive in VR and the circuit keeps you very busy for roughly 80% of the lap. There are quite a few first gear corners, so you are constantly shifting up and down the whole six speed box. Plenty of opportunity to heel and toe for sure!
The clutch was calibrated to have no dead-zone and its bite point at around 55% depression. The travel from 0 to 100% for the clutch is about 80mm.
The pedal operation was also lighter than I had anticipated. Offsetting this lightness is a truly unique feel from the diaphragm-shaped springs arranged along the clutch pedal's connecting shaft. It feels unlike any other type of sim racing clutch I have used. I can now totally feel in practice what was explained in theory earlier regarding how a real world racing car's clutch only has the weight of the pressure plate acting on it. So yes… it is a unique experience to use this clutch! The action is smooth and linear with a clear bite point, positive travel and return spring. If you want to, you can also disengage the clutch from the system and use the two remaining pedals with the extra resolution allotted to them.
Driving the McLaren MP4/4 around Adelaide, the impression that comes to mind is precision! After all, the pedals themselves have to conform to strict real world racing standards. Precision is one thing these pedals have in bucket loads! Driving with the GTPro3s is for all intents and purposes akin to driving with real pedal controls. The only thing missing in this picture are the G-forces that would be generated by whatever racing car you happen to be sitting in! In all the titles listed here below, the GTPro3s behaved admirably and were easy to dial in when calibrating them in-game.
Bonus Talk&Drive Video, Driving With The Ricmotech GTPro3 pedals
Titles driven: iRacing, Assetto Corsa, Project Cars, rFactor2, and Automobilista
Pros
Real feeling from all three pedals
Compatible with most titles via a USB only PC connection
High resolution pedals with hydraulic and pneumatic operating systems
ECU stores up to 5 user profiles and retains them even when disconnected from the PC
No third-party software required
Two load ranges available when ordering, 80kg (175 lbs) and 160kg (350 lbs)
Linear feel from all three pedals / 4 linearity presets per pedal available
Unique positive clutch pedal feel and action
Real world components, quality and performance
No compromise design (top shelf equipment)
Comprehensive printed user manual
Quiet operation during use
Excellent free technical assistance
Quick set-up / Simple calibration method
Extra pedal travel stoppers supplied with soft tips to dampen pedals striking their respective stops and creating audible metal on metal noise
Clutch can be disengaged for extra resolution to be spread over the two remaining pedals
Extra outlet for a future handbrake to be connected
Cons
Price point (might not be in everyone's budget)
Requires an extremely rigid mounting solution (otherwise there will be flex)
Not console compatible
Can develop some slight mechanical noise after a period of use
Pedals on their lowest settings may still be too high for smaller foot sizes
No compromise design (may not be suitable for certain rig types)
No on-screen controls for pedals other than in-game options
ECU must be placed within easy reach, in order to calibrate and adjust settings
General Requirements
One free USB 2.0 port, not for use with a USB hub
Pricing
Arriving at the pointy end of this review, what does the Ricmotech GTPro3 Xtreme Tilton Real Gear Pedal Set cost? Listed here below is the price of the reviewed model.
The stated price was correct at the time of publication, July 2016. Price taken from the official Ricmotech website. For international prices, sales tax, duties and worldwide shipping costs, please consult the Ricmotech website or contact them directly.
Review model: Price: US $1549.00
Final Thoughts
During the last month or so of testing these Real Gear pedals, we have become very well acquainted with one another. Frank Rico from Ricmotech has used his considerable mechanical and automotive knowledge, coupling that knowledge with some innovative approaches allowing for a compromise- free sim racing pedal design. There are great touches all over these pedals, the nylon tipped pedal travel stoppers, the adjustability of the main pedal controls, not to mention the simple calibration and programming method. Should you wish to transport your pedals or connect them up to a new PC, this will not result in the loss of your stored profiles. The ECU retains those profiles even when there is no USB connection!
Are these GTPro3 pedals really like a racing car's pedal controls? I mentioned earlier that I have driven a race prepared Formula Ford, and from what I recall of the experience, for me the answer to that question is a resounding yes! They do live up to what is stated on the Ricmotech website, all three pedals are expertly re-engineered to provide what is likely to be one of the most realistic experiences you can hope to have with sim racing pedals!
That last statement does not mean they are the perfect sim racing pedals, there are some things that I would change. The throttle is on the light side for my personal taste, it would be good to have an option to make the throttle action adjustable for stiffness. I have euro size 44 feet and with the pedals frame mounted to the mounting plate, I needed to fabricate an extra riser to get the balls of my feet to rest correctly on the pedal faces. A lower set of holes in the pedal arms themselves would allow for the pedal faces to cater for people with smaller feet, this would be a nice addition to their adjustability. Alternatively, some type of riser arrangement as an optional extra would also do the trick.
Pricing is probably the most contentious thing about these Real Gear pedals. The saying ''you get what you pay for'' applies here! I know that these pedals are not going to fit some rigs, budgets or tastes. I also know, some may state that they can buy the components separately and construct something similar for less money. That may or may not be true, it is one thing to go out and purchase real racing gear, the trick is to then convert it for use in a sim racing rig.
That is not even accounting for the electronics and interface side of the equation. Unless you are an electronics, hydraulic and pneumatics expert or know someone that is, it will require time and patience to achieve what Frank Rico has achieved!
As well as being extremely knowledgable in several fields, Frank Rico is one of the most accommodating, helpful and friendly people in the sim racing business today. This is nowhere more apparent than in the amount of technical help and customer friendliness he provides to all of his customers!
Taking some of the best real racing components available and making them suitable for sim racing is by no stretch of the imagination an easy undertaking! Irrespective of the price point, the Ricmotech GTPro3 Xtreme Tilton Real Gear Pedal Set is a true testament to the expertise of Ricmotech. Should you find yourself in a position to consider purchasing them, I recommend them highly. They definitely put a smile on my face every time I used them!
If you made it to the end, my thanks to you for sticking with it. I do hope you enjoyed this review. Next up, the Rexing Formula Rim and Rexing Software review. Stay tuned, mate!