It's been a while since we've done a sim racing chassis review. Presenting our RSeat RS1 Review. The RSeat RS1 is the most current design from http://www.rseat.net. You may have seen our prior reviews on their F1 chassis and Evo.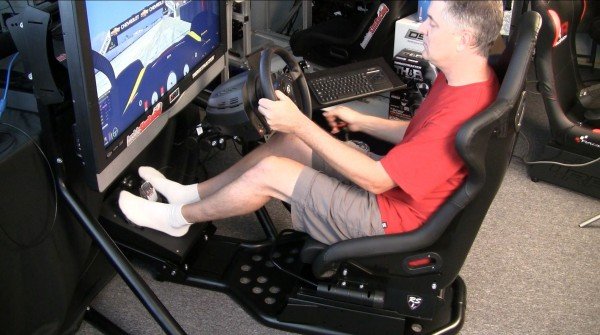 I'm going start with pricing and base it on the US store. You can go to http://www.rseat.net to find a location that ships to you.
You can get an RSeat RS1 chassis without a seat for $849
With a seat it's $999.00 and that comes with seat sliders and a shifter mount.
The additional accessories that you can purchase are:
Buttkicker Mount, – $129
Tablet/Buttonbox mount – $129
Keyboard and Mouse tray, – $179
Speakers Mount (Logitech® Z906 Support) – $119
Clubsport Shifter and Hotas Warthog Upgrade Kit – $149
Full motion Dbox System with  3 Actuators – $11,699 and the 4 actuator system goes for $14, 699
Supports and is drilled for all of the major brands of wheel and pedal sets- Thrustmaster, Fanatec and Logitech
Thrustmaster TH8RS and TH8A, Fanatec ClubSport Shifters, DSD Shifter, Logitech G25/G27 and more
rSeat SQ Shifter and HandBrake are coming soon.
Seating position = Rally/GT
All tools and screws to attach your wheel, shifter and pedals are provided.
All the dimensions are available at their website if you're wondering about the size of the chassis or the seat.
Everything came very nicely packaged and very neatly padded and organized in the box. Comes with assembly instructions and a set of hex wrenches and a 13 millimeter wrench for assembly.
The instructions aren't the most detailed and if you have some of the accessories, make sure to look at the assembly of those parts before putting the whole rig together. For instance the buttkicker mount goes under the seat and if you mount the seat, you'll have to take it off to put it back on. You'll also risk scratching the seat when putting the buttkicker mount, so be careful. I did a little bit.
Total assembly time for me was about 4 hours.
The seat has three levels of adjustment vertically at the  front and then two at the back. Then there's a seat slider  with the gear shift adapter attached on the right of the base of the seat, or left for those that shift on the left side. , may hit the front of the rig for those of you under say 5'5″ for the right hand shifters. This wouldn't be an issue for left hand shifters.  
Adjust-ability at the wheel deck is limited to up and down and at an angle.  Was at a good position for the TX and T500. I would have liked to move the wheel a little closer to my torso, but it was close enough that my arms were still slightly bent at the elbow. You can adjust it at two different points. One to move it up and down vertically and then one that you can change the angle.  Absolutely no movement / wobble on this wheel deck at all.
The pedal deck has a lot of adjustability. You can move it forward and back and also can have it pretty much flat, or angled. I would have liked to move it back a bit and the adjustment channels could go back that far, but the pedal deck stops it from moving that extra 4 inches or so.  I would have liked to have it back further and that would have put my torso closer to the wheel .
Once you have everything in the position you want on the RSeat RS1, it all locks in very well with all the M8 hex bolts
Shifter mount: As mentioned attaches to the base of the seat on left or right side and is adjustable. You can mount it in two locations and then tilt the plate if needed. Another area that you are better off installing first before putting the seat on due to the location of the holes. 
Seat is very comfortable and provides more cushion then the Rseat Evo rigs did. I fit perfectly in it. I have a 34″ waist and would imagine someone up to 38″ waist would fit as well. 
Build and design is very high quality. Heavy duty tubing and major welds keep this rig together and it looks very cool. Rig is built in Bulgaria by the way
Modular Upgrades:
Only going to talk about the ones I actually used. They sent all of them to me. I did install the buttkicker version but all mine are hard mounted to my personal rig so I didn't try them. I will mention that the buttkicker upgrade it nicely constructed and I would imagine rumbles nicely under the seat and through the chassis. Looks like you could install two on it.
Keyboard and Mouse tray. Has a full articulating arm and is very adjustable at many points. Also comes with a felt cover. For me shifting on the right side, it does come a little close to the shifter, but can be moved out of the way while you are driving.
Button box / tablet holder can tilt and be used at a few angles. You can also use a tablet that's about 5″ to 8 1/4″ wide or tall. I tried using my Galaxy phone with Brass Monkey in iRacing and it only runs horizontal. The rig is so stable, that I was able to just rest my phone on the bottom of the display holder and it stayed put.
Buttonbox mount support a DSD Track Boss, DSD Black Max and DSD Black Max II. Im sure you can drill your buttonboxes to fit as well. I had mine hard mounted to my personal rig as well and didn't want to take them off. I like the placement and adjustability of it though.
I didn't use the HOTAS / Fanatec Clubsport upgrade or the speaker mounts.
In the future, I'm considering replacing my personal rig with the RS1 and would utilize just about all the upgrades. Was thinking I could install a button box on the HOTAS mount and have it on my left side.
With all the upgrades minus the HOTAS / Shifter mounts, the rig goes for: $1555.00 shipped to your door in the US.
That obviously doesn't include the Dbox setup either. That can put you between $13 and 16k depending on which one you wanted.
PROS:
Solid as a rock both at the wheel deck and pedal deck
Cool looking – Nice design
Very Adjustable
Modular so you can add accessories as you go
Ergonomically correct – Wheel, pedal and seat arrangement are all proper
Comfortable Seat
Pre drilled for all major wheel and pedal sets
Comes with all the hardware you need to mount everything plus extras
CONS:
Would have liked to have been able to use the full length of the pedal adjustment
Expensive with all the additional accessories (almost $1600)
With all the upgrades installed, the right side becomes a little cluttered
Final thoughts
Rigs are probably one of the hardest pieces of sim racing equipment to design. You need them to fit a variety of heights and widths, be rock solid at the wheel deck, have a comfortable seat, adjustable pedal deck, ability to upgrade or be modular as well as make it affordable and able to ship.
The RSeat RS1 does everyone of those things well and is one of my favorites to date. This is one that I would consider swapping out  for my fully customized franken rig . It is a little on the pricey side but it's one of those, you get what you pay for items and most likely the last rig you will buy if you decide to get it.