Traditionally, when we've advised fans on what wheel and pedals to get for the consoles, we've steered them to pick a brand and stay in that ecosystem.  We've done this because unlike most PC titles that can support multiple input devices – aka, multiple USB connections – the consoles can only accept one input device, aka one USB from the wheel.  This means once you picked a wheel, you were relegated to using that brand's compatible pedals and shifter as well.
But let's say you REALLY wanted to use a Thrustmaster wheel with Fanatec pedals on the console.  Well, there actually is a way, the Basherboards CPX Adapter V2.
So what is the Basherboards CPX Adapter?  The CPX Adapter allows you to connect Fanatec pedals to Thrustmaster wheel bases, thus allowing you to use the mix set on consoles.
The CPX Adapter costs $55 from basherboards.com – $59 shipped in the US and $70 to ship overseas – and is compatible with the Thrustmaster T150, TMX, TX, T300, T500 and TS-PC Racer (TS-PC not compatible on the consoles) wheels and Fanatec ClubSport Pedals V1, V2, V3, CSR Elite and CSL Elite LC.  
If you own the newer Fanatec ClubSport Pedals V3 or CSL Elite LC, then you'll need the additional RJ12 to PS2 cable, which bumps up the total price + shipping to $66 in the US and $78 overseas.  You'll also have to make sure you have the latest firmware from Fanatec, which you should download regardless.
Besides just making Thrustmaster wheels and Fanatec pedals play nice with one another – at the native bit-rate of the wheel – the CPX Adapter also has two neat features.  It has an ABS and Gain dial that allows you to, well, adjust the sensitivity of the ABS and brake.
How well does it work?  As advertised.  You can certainly tell a difference as you rotate the dial (thanks to a new firmware update that should be available soon), and it was really nice to have for dialing in the brake's gain on-the-fly, something that you take for granted on the PC thanks to the Fanatec Control Panel or in-game-options.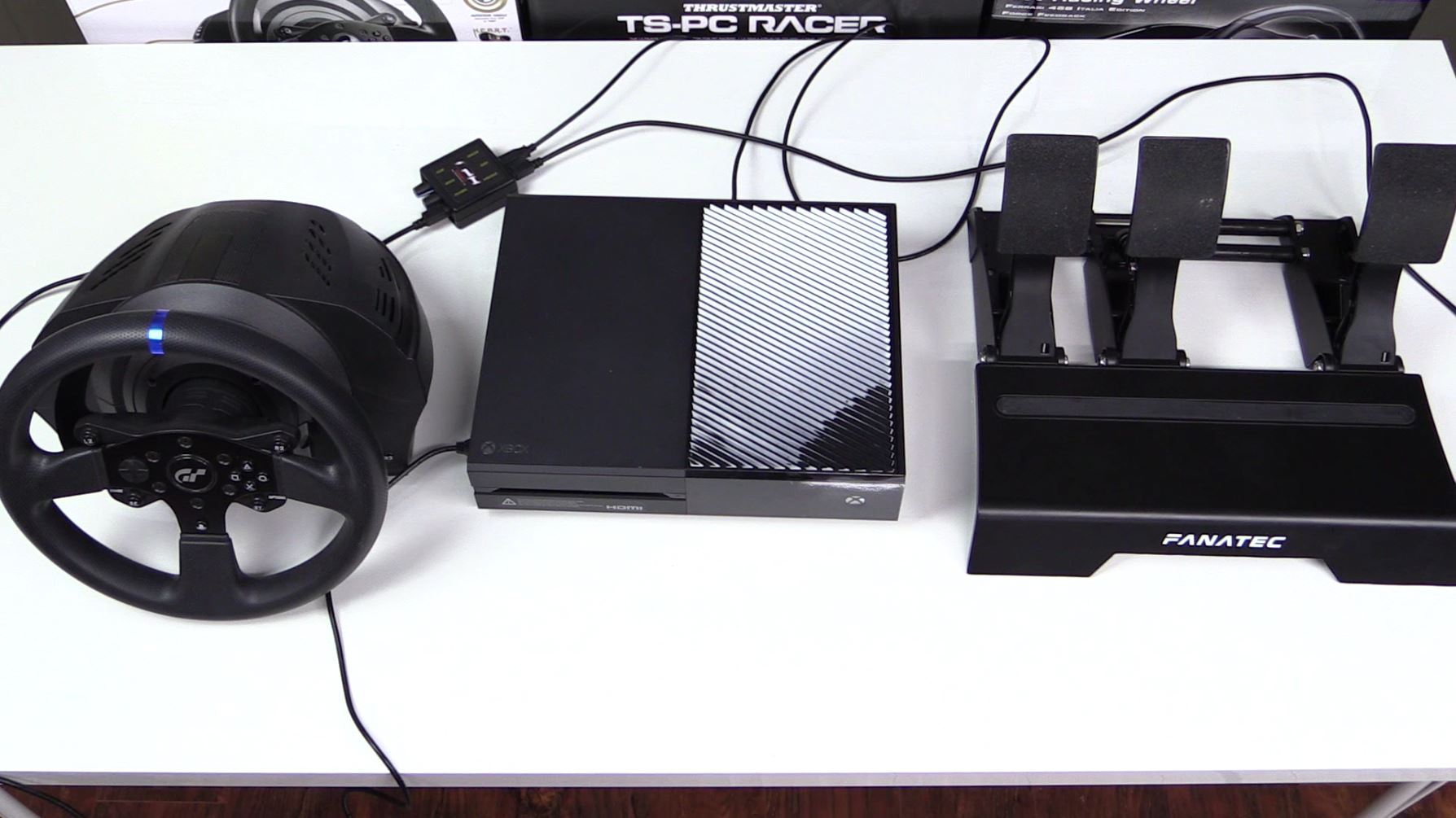 In fact, everything with the CPX Adapter works as advertised.   Hooking it up is also easy since all the connections are clearly labeled.  It works straight out of the box, but it's firmware can be easily updated if need be.
And….that's it.  It just works, which is great!
Are there any cons?  Not really, but If you want to nit-pick, there's probably two things that you could lock in on.
First, the cable from the wheel to the adapter is pretty short to keep the weight down for shipping.  Now, I don't have any problem with it cause it keeps the adapter close to the wheel and in reach to adjust, but maybe someone would prefer a longer cable for mounting purposes.
Second, it isn't inexpensive.  Now, I won't go as far as calling it expensive cause I understand the cost associated to develop a very very niche product like this.  Plus, spending the money on the adapter may save you from having to buy a set of pedals or a wheel.  In the end, I understand the pricing and don't really have an issue with it.
That's really all there is to say about the Basherboards CPX Adapter v2.  It's a cool product that's well executed, and based off of how many of you ask us about running Thrustmaster wheels and Fanatec pedals on the consoles, it's much needed.
And if you are one of those people, I say pick it up.
Before we go, two more items.
I talked to Jon from Basherboards and he wanted to gauge the Inside Sim Racing audience's interest in an adapter that allows you to use a Logitech wheel with Fanatec pedals, instead of the Thrustmaster wheel.  He's already modified a CPX Adapter to do this, so now it just depends if there's interest.  Leave a comment if you are interested.
Second, Jon is looking at making an adapter for Thrustmaster wheel bases that allows you to use any h-pattern shifter out there, including PC only shifters that connect via USB.  So again if you're interested in that – which I'm pretty sure a lot of you are – leave a comment below saying so.