As sim racers we are always in search of realism, whether it be with hardware or software the best experience is had when the line between reality and simulation is blurred. Every sim racing hardware manufacturer big or small has one common goal, to replicate the feeling of racing as realistically as possible. With the popularity of simulated Motorsports growing every day we are finally seeing real Motorsports companies lending their expertise on both the hardware and software side of things. Today Sparco continues this trend with the introduction of their Sparco Gaming line of products.
Sparco's European website currently has three categories within their gaming line, these categories are Gaming Chairs, Gaming Simulators and Accessories.
Gaming Chairs
The gaming chairs category consists of five different office style chairs ranging from 220.49 Euros for the "Grip" model to 654.92 Euros for the "Comp C" model. Materials range from plastic seat backs with synthetic leather upholstery on the low end to Carbon Fiber back plates with Alcantara upholstery on the high end. Sparco's gaming chairs are designed to be ergonomic and provide comfort during long gaming sessions. Both the arm rests and seat assembly can be raised or lowered and the seat back reclines with a spring loaded action. This line of chairs comes as no surprise considering the popularity of racing seat office chairs these days.
Gaming Simulators
Next comes the Gaming Simulators line, my personal favorite. So far there is only one product within this line, but the plurality of the word "simulators" implies there will be more to come. The current simulator, dubbed the "Evolve", is dawned in red and black coloring and includes a solid body carbon fiber Sparco racing seat.
The Evolve simulator chassis allows for full adjustment of the seat, pedals and wheel deck. The wheel deck is actually a point of interest for me as the design is something I haven't seen before. The wheel deck itself attaches to a steel box which is fixed to a steel tubing wheel riser by way of a slotted flange and securing bolts. The slots in the flange allow for tilt adjustments while four pairs of pre-drilled holes in the wheel deck mounting block allow for up and down adjustment. The large steel tubing used for the wheel deck risers and main chassis should be something users of high end steering wheels and pedal sets will appreciate. The wheel deck assembly as well as the pedal plate and seat mount are made of thick steel plate which should also accommodate heavy usage quite well.
Both the pedal position and seat height can be adjusted using pre-drilled holes and the seat rides on a set of sliders for forward and rearward adjustment. There are also slotted legs which the front of the pedal deck mount to, this allows the front of the pedal deck to be raised or lowered for angle adjustment. Additionally, padding can be removed from the seat to accommodate very tall drivers. This chassis also has two wheels fitted to the front for easy moving. The Evolve simulator sits at 1139.34 Euros.
Accessories
Finally we have the Accessories category. This category currently consists of two products, the "GT Vent" T-shirt and the "Hypergrip" racing gloves. Both products match the red and black coloring of the Sparco Simulator. The GT Vent shirt sells for 44.18 Euros and is available in small, medium, large, XL and XXL sizes. Made out of top quality perforated polyester material this shirt is designed to keep you cool and comfortable during long gaming or sim racing sessions.
The Hypergrip gloves take this a step further with micro-perforated microfiber on the palm and stretchy materials to allow a skin tight fit. These gloves are designed for both steering wheel and game controller use with reversible finger tips on the index and thumb to allow for better control with buttons. The Hypergrip gloves will set you back just 40.90 Euros, which is fair when comparing to other real world racing gloves.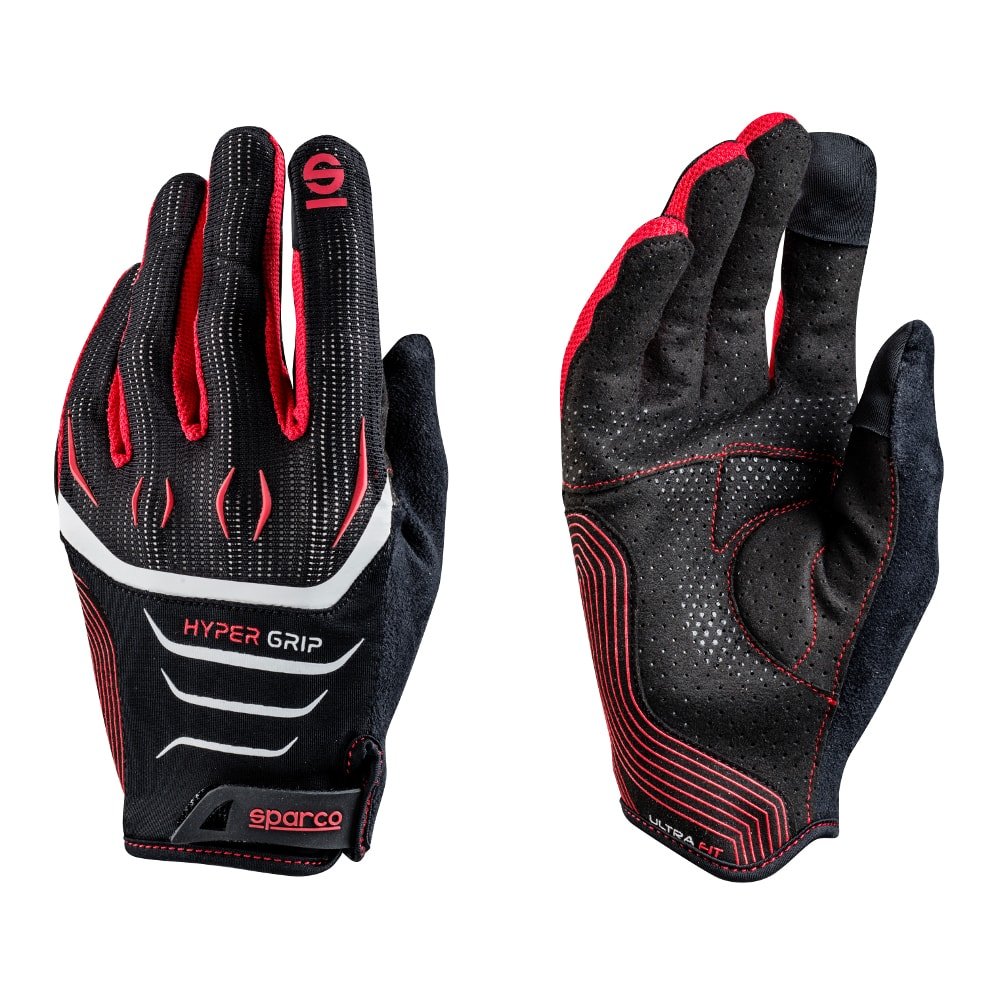 Sparco's new line of gaming gear is a welcome addition to the sim racing market, there is nothing like hardware straight from one of the top manufacturers of real world racing components. If you would like to check out these products yourself you can visit their European website here. While the USA version of the site only has two chairs listed at this time we expect the rest of the products to make their way over before long.